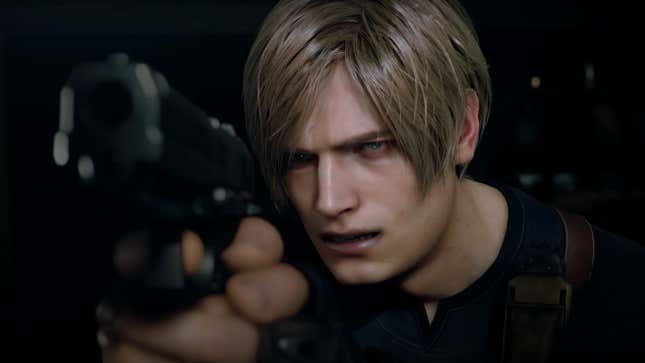 Congratulations, you made it to March, when it's still freezing, but you might notice a tulip poke its green head out of the dirt. Like flowers as we get deeper into the year, video game releases are also beginning to flourish. But, perhaps controversially, I rarely manage to get myself excited about new games without music to help fan the feeling. That's why I put together a list of seven mega game releases and the music you should listen to while anticipating, and eventually playing, them.

The Week In Games: Nier Man's Switch
I created most of this list very scientifically, by watching gameplay trailers while listening to different albums until I found one that felt right. And on that note, I know it may feel wrong to listen to anything other than a game's sound design and built-in soundtrack, but, trust me, it transforms your experience.

It's like walk-on music for baseball, setting the tone for the rest of your playtime; it sharpens your mood and your senses. When I play on console, I usually listen to music by muting my game and plugging my KPH30i headphones (with pink ribbons on them) into my phone dual-device, Subway Surfers style, but PlayStation and Xbox both allow you to select Spotify audio instead of game audio if that's more your speed. But however you listen, and however you play, I think you'll find a game or album to get excited about in my spring-centered list.
Read More: "Here's Every Video Game Release Date For 2023"
---
Wo Long: Fallen Dynasty, Episode 02 by yourboyfriendsucks!
The latest action-role playing game from brutal Nioh developers Team Ninja, Wo Long: Fallen Dynasty is the fire-bright story of a soldier fighting to survive in a mythologized version of China's Three Kingdoms period. Kotaku staff writer Levi Winslow says in their review that the game—amid historical fiction, poison potions, and "grotesquely transformed" enemies—offers "pulse-pounding combat, a haunting world, and some memorable bosses."

G/O Media may get a commission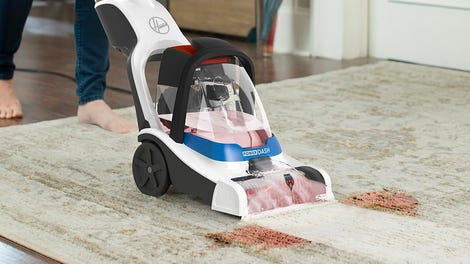 26% Off
Hoover PowerDash Pet Compact Carpet Cleaner
I thought Episode 02, the gooey 2020 album from Chinese shoegaze band yourboyfriendsucks!, lowers itself into the mud well. As is necessary for its genre, Episode 02 is heavy on the whine and on the fuzz, bright guitar lines coasting off of embedded, bright vocals like your feet kicking the dense playground floor under a swing set. You might think it's too starry to truly complement a game like Wo Long, but I didn't think I was really alive until I played Bloodborne while listening to loveless, so I know what I'm talking about. It's not a bandaid, it's mixing black and white to make infinite gray.

Game release date: March 3

Album highlight: "跑个步3000 3000-Mile Run"

---
Resident Evil 4, Flyleaf by Flyleaf
Capcom's remake of its 2005 survival horror Resident Evil 4 is, it seems, making some notable changes to its masterpiece, including in its gameplay and style. Based on trailers, the game's graphics have been raised to palpably nasty territory. Bratty president's daughter Ashley Graham gets to wear pants instead of lacy underwear you can screenshot and put in YouTube videos for people who breathe with their mouths open. Nature is healing.

But Leon's hair is still intriguingly K-pop adjacent, so some things never change. I've played the original version of this game before, and based on that, I'm assuming the remake will have a seesaw balance of fear, blood, and really ridiculous dialogue. You need to prepare with an album that might as well be a spiked pleather collar from AliExpress. You have no choice but to listen to Christian metal band Flyleaf's eponymous debut album (also from 2005!).

It's heavy and self-indulgent. I imagine lead singer Lacey Sturm's penchant for sudden, wheezy vocal turns and soaring pop melodies will make cutting through monsters feel more theatrical and satisfying. Plus, I know for a fact that, in between running away from scary creatures and men on YouTube, Ashley would have slowed down at some point to listen to the epic love song "All Around Me" on loop on her iPod shuffle.

Game release date: March 24

Album highlight: "I'm So Sick" ("I'm so sick / Infected with where I live / Let me live without this")

---
Dead Island 2, When the Smoke Clears: Sixty 6, Sixty 1 by Three 6 Mafia
After almost a decade of delays, the highly anticipated action role-playing game Dead Island 2 is due this April. Based on the gameplay trailer released earlier today, like the original game, Dead Island 2 is a zombie apocalypse well-versed in sarcasm. In it, Los Angeles is pristine, sand-white when it isn't being blasted with globs of zombie blood ("Satisfying dismemberment!" the trailer's voiceover advertises while the player on screen crashes through a mansion. "Thanks to our flesh system, cutting through zombies with your katana feels as smooth as slicing butter.")

I'm very much looking forward to playing this game while listening to horror-hungry Memphis hip hop group Three 6 Mafia. Their 2000 album When the Smoke Clears: Sixty 6, Sixty 1takes a similar aesthetic approach to murder, luxury, and death as Dead Island 2, turning fear into diamonds. I know that chopping a zombie's head in half is going to feel so different if I'm doing it while rapper Juicy J is demanding to "see your tongue ring."

Game release date: April 21

Album highlight: "Touched Wit It" ("Fuck around wit me / I separate your body from your name")
---
The Star Wars Jedi: Survivor, Phenomenon by Otyken
Senior Kotaku editor says that Serbian indigenous band Otyken (which also makes really engaging, snow-covered TikToks) are "perfect" for action-adventure Star Wars Jedi: Survivor.

Like Mongolian folk metal band The Hu, which wrote music for 2019 Jedi installment Fallen Order, Otyken blends centuries-old music and instruments—leather drums, the jaw harp, the elegant, pear-shaped stringed komuz—with pop-leaning sounds Western audience already recognize, pulsing vocal melodies and rhythmic electric guitar.

The band's newest album, Phenomenon, should help tie fantastical, interplanetary adventure Jedi: Survivor to something real, visceral, and old, with dynamic vocals and incredibly low lows that make you feel like a bird with wings about to touch the water. You can take that sense of ancient history and proud tradition and use it to make yourself believe you've always known how to operate a lightsaber on PS5.

Game release date: April 28

Album highlight: "Legend" (it kind of reminds me of Fiona Apple)

---
The Legend of Zelda: Tears of the Kingdom, hypochondriac by brakence
Though Breath of the Wild fans have certainly been putting the work into zooming into pixels on sequel Tears of the Kingdom's brief trailers, the truth is, we don't know that much about it yet. But we know that its dreamy, pale green looks good—"To the untrained eye, these images of Link gliding probably look pretty much the same except for differences in the lighting and shadows," Kotaku senior writer Ethan Gach says about a TotK trailer screenshot compared to BoTW. "As eagle-eyed Zelda fans quickly noticed, however, the shot from Tears of the Kingdom includes more trees and rock formation details in the distance than the one from Breath of the Wild."—that's enough for now.
It's, at least, enough for me to recommend playing it while listening to hypochondriac by hyperpop prodigy brakence, which I have not stopped screaming about since it came out this past December.

The album's combination of emo complaining, pop-punk yearning, and glitchy hip-hop beats are as resolutely tousled as Link looks. Its lyrical content, which span everything from Elden Ring, headaches, and what it means to be destined for greatness, also feel intertwined with the Hylian's constant uphill battle. It's hard being a boy!

Game release date: May 12

Album highlight: "stung" ("So I'm taking the potion / I'm breaking the code with a chemical hack / I bet you don't think I could do it like that")

---
Honorable Mentions
I'm convinced that I found the ideal album pairings for these additional spring releases, but I can't really explain why other than the rooted sense that the vibe is right. I'm putting them both in this miscellaneous category.
Suicide Squad: Kill the Justice League (May 26) and Drip Mental by Fire-Toolz—these both feel neon colored to me, and Fire-Toolz's experimental blend of screamo, electronic, and anime intro-level musical overstimulation could invigorate something as tired as a live-service superhero game
Skull and Bones (TBA) and Trash Island by Drain Gang—the long-delayed Assassin's Creed spinoff, the seabound pirate adventure Skull and Bones, might never come out, at this point. But if it does, I'm not listening to anything else other than artist collective Drain Gang (Swedish rappers Bladee, Ecco2k, and Thai rapper Thaiboy Digital) and their 2019 album Trash Island. It's adorably angst-ridden, and I think a video game pirate would appreciate its references to water.
---
Do you like listening to music while you game? What are some of your favorite pairings?