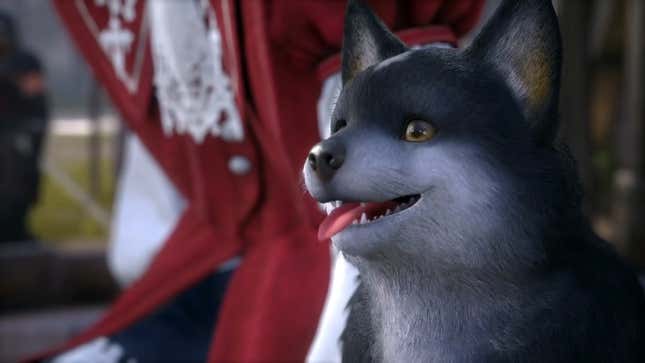 We're a few months away from Final Fantasy XVI's June 22 release date, and more details about the upcoming not-so-final fantasy-RPG keep tricking out. In addition to learning that the game is approximately 80 hours long, we've finally gotten a short-but-sweet glimpse of the cute wolf buddy kicking ass.
Skyward Sword HD Revisits The Stumble That Led To Breath Of The Wild
Read More: Final Fantasy 16 Devs Say Only PS5 Can Handle The Game's Combat
The sixteenth mainline entry in Square Enix's Final Fantasy series, FFXVI puts you in control of Clive Rosfield, a pretty boy determined to get his revenge on the bastards who killed his brother. To do this, you'll slash, cast, and summon your way through multiple enemies in an effort to put the antagonist six feet underground. But you're not alone. Clive has a bevy of party members accompany him on his journey, one of them being the badass wolf Torgal.
The Japanese FFXVI Twitter account shared a 15-second video of Clive and Torgal fighting together. That's way too short to glean anything, but you can see that after Clive says "get him," Torgal leaps into action. He does a quick two-piece combo, backflipping to launch a scorpion into the air so that it's stun-locked when it lands. Clive then shoots a fireball, at which point Torgal, the best boy that he is, meets the scorpion in the air to land a spin attack. The two finish the assault, the scorpion dying from all that coolness.
G/O Media may get a commission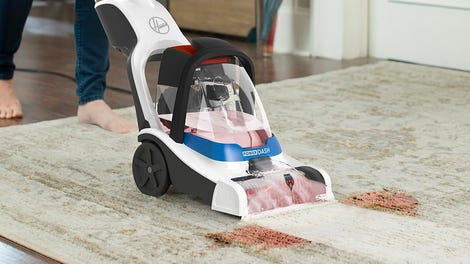 26% Off
Hoover PowerDash Pet Compact Carpet Cleaner
According to the tweet, you can give Torgal orders to combine attacks. As GamesRadar+ noted, Torgal's move is very similar to Nero from Devil May Cry 5. Considering FFXVI's combat was designed by DMC5's Ryota Suzuki, the familiarity isn't all that surprising in the grand scheme of things. We've also known for a minute that Torgal was a companion you can travel with. This just happens to be the first time we're seeing the scruffy puppy get his fangs dirty.
As an aside, Torgal reminds me of two other FF quad-pedaled animals: Red XIII from Final Fantasy VII and Angelo from Final Fantasy VIII. Red XIII is the obvious standout, as the battle-hardened and heavily-tatted lion-like creature joins pretty boy Cloud Strife on some of his expeditions. Meanwhile, Angelo isn't easily accessible, being a mere assist for Rinoa to call on in battle. Still, the adorbs Australian Shepherd is an honorary party member in my eyes. Final Fantasy is known for its good boys, and Torgal seems to fit the bill, too.
Read More: Final Fantasy XVI Dev Has A Terrible Answer For Why The Game Is So White
Final Fantasy XVI has a lot riding on it, especially considering producer Naoki Yoshida's comments on the series "struggling" to find new audiences. Maybe Torgal will attract animal lovers of all kinds. I mean, I know I'm now invested. Here's hoping nothing happens to my precious battle wolf. I would be sad.