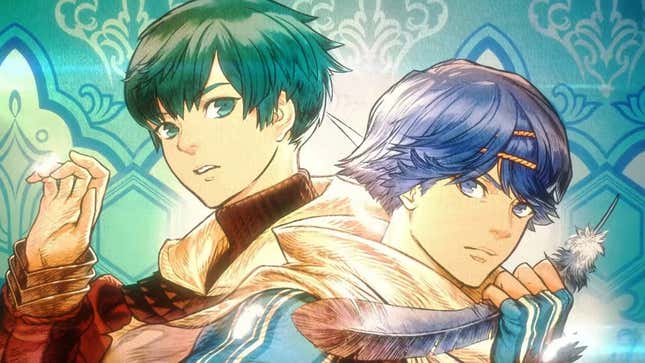 Nintendo's 2023 Switch games lineup is looking somewhat light at the moment outside of The Legend of Zelda: Tears of the Kingdom and Pikmin 4. Naturally, one of the ways it's plugging the holes is an onslaught of new and old JRPGs. Golden Sun is back! So is Baten Kaitos! Nintendo is digging deep into the back catalog and turn-based, number-crunching fans are reaping the rewards.
We knew Octopath Traveler II was just around the corner, but following the latest Nintendo Direct we now also have a new demo. Xenoblade Chronicles 3 and Fire Emblem Engage already launched, but new expansions promise good reasons to return to them. The Chrono Trigger-inspired Sea of Stars hasn't been a secret either, but a new trailer revealed its gorgeous pixel art animation is just a couple months away. Not to mention Square Enix has six Final Fantasy "pixel remasters" hitting Switch this Spring. Those weren't part of the presentation, indicating that this week's February Direct was just the Switch's opening salvo.
This is hardly a new strategy. 2022's Switch JRPG bonanza began with the 2D HD pixel art throwback Triangle Strategy, and ended with the flashy remake of Final Fantasy VII: Crisis Core. Ports of Persona 5 Royal and Nier Automata followed, as did a plethora of other remasters and sequels. It turns out a comfortable handheld hybrid console with a beautiful OLED screen is a great way to casually enjoy colorful, grindy, and menu-intensive adventures spanning dozens of hours.
As more and more of these games come to Switch the cuts are definitely getting deeper. Then again, that's sort of what JRPG fans live for. Look no farther than Baten Kaitos, a nearly 100-hour GameCube game from Xenoblade makers Monolith Soft featuring turn-based card battles. Almost nobody played it, but the ones who did will never shut up about it. Now the cult favorite and its sequel are getting a second chance almost 20 years later.
It's a testament to just how curated the new class of JRPGs coming to Switch is that Baten Kaitos is probably one of the better-known games on the list. The deepest cut didn't even make it into the North American Nintendo Direct: the first Atelier-series game is getting a remake. Not only will the alchemy-based PlayStation game get a chibi-art overhaul, it will also get its first English localization next winter. Congratulations Atelierheads, the summoning circle worked!
Here's all the other JRPGs coming to Switch in the months ahead.