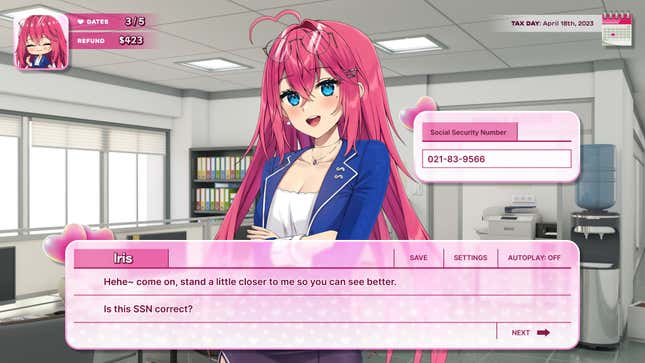 Filing taxes suck. If it weren't for the sweet reward of a tax refund, many of us probably wouldn't be filing our taxes (which are due on April 18th) at all this year to avoid the headache of leafing through physical and electronic paperwork. Luckily, there's a new dating simulator that'll help folks figure out how to avoid these headaches.
Elden Ring's Top Five Spells, According To FromSoftWare's Stats
Tax Heaven 3000, developed by MSCHF—the Brooklyn-based art company behind Chair Simulator, the Lil Nas X satan shoes, and those big ass Astroboy boots— is a visual novel that claims it will help players file their tax returns. By going on dates with Iris, a pink-haired girl with "a disconcerting affinity for your personal finance information," Iris will help you sort out your 1040 U.S. Individual Income Tax Return, check the eligibility for your earned income tax credit and American Opportunity Credit, "and more."

In Iris, We Trust (?)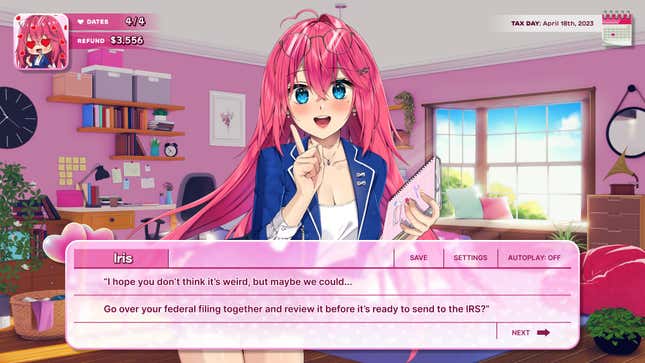 G/O Media may get a commission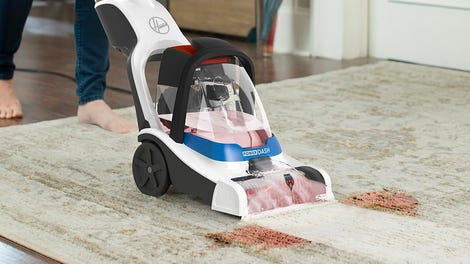 26% Off
Hoover PowerDash Pet Compact Carpet Cleaner
Like most visual novels, Tax Heaven 3000 lets you go on a myriad of dates with Iris where you get to know her better and one major act of trust Tax Heaven 3000 asks you to take part in is sharing your social security number with her. What better act of intimacy is there than sharing private information with another albeit virtual person?

"Intelligent players may question whether they should give their social security number to an attractive anime girl in a video game! The Tax Heaven 3000 application does not connect to the internet. In some sense, it is probably safer than most big-box tax software," Daniel Greenberg, the co-founder of MSCHF, told Kotaku via email. "Iris doesn't kiss and tell: she wants to know your personal information to prepare your tax return and nothing else."

That being said, please remember to, file responsibly, folks, and don't hand out your SSN to anyone IRL.
If you happen to have a bone to pick with online tax filing corporations like TurboTax (who will charge you extra to find more deductions and speak with an expert), you'll get along swimmingly with Iris because her creators air out their animosity against confusing forms and "parasitic bottlenecks that deliberately complicate the tax filing process" on the website's "manifesto" tab.

"Most wealthy countries make tax filing free, if the burden of preparation is even passed along to individuals at all. But, corporate tax filing services are (by dint of extensive lobbying) predatory, parasitic bottlenecks that deliberately complicate the tax filing process in order to make it unnavigable by ordinary people.

The villainous corporation that controls the government from the shadows is a sadly mundane reality. It's the most boring industry imaginable.

Videogames are, at the end of the day, pieces of software–ontologically akin to Microsoft Word. Tax Heaven 3000 simply makes the fiction the point. For some reason the game-to-real-life interface has tended to remain the purview of corporate metaverse fictions. Tax Heaven 3000 is a dongle that adapts from a visual novel to the IRS."
If you're still on the fence over whether or not MSCHF is legit, they are a real-world business that's worked with celebrities in the recent past. Back in 2021, MSCHF worked with rapper Lil Nas X on his Satan Shoes. Last December, MSCHF made ATM Leaderboards: a piece of art that ranked real people's debit card balances at the Art Basel, a lavish art show.
It's worth noting that the collector's edition of Tax Heaven 3000—which comes in one of those software boxes from ye old aughts—comes with a retro installation disk case and a dakimakura (body pillow) of Iris, according to its official website. Oh, there's also a link to an "X-Rated Patch" on the official website that links to a WattPad post called "The BOFA Encounter."

"There's a tremendous amount of untapped potential in having video games that interface with 'real life,' which in this case still means digital, ecosystems. Video games are software applications– they could send my emails, or do my taxes," Greenberg said. "Typically the only types of 'games' that investigate this are corporate metaverse endeavors but there's so much more potential than that."

If you were wanting to wishlist Tax Heaven 3000 on Steam, the visual novel has been delisted from the storefront. Yesterday, around 5:25 PM EST, Tax Heaven 3000's entire store page was removed, according to SteamDB.
"TH3K went through Steam's standard verification process, and was ready to go live April 4th, but out of nowhere it was de-verified and removed from the platform without explanation early yesterday. That's all we know," Greenberg told Kotaku.
Kotaku reached out to Valve for comment.
Tax Heaven 3000 will release on April 4th for PC, giving you just enough time to file your taxes before the April 15 deadline and delineate how you'll be allocating your refund with Iris.