Zelda: Tears of the Kingdom may go on to be one of the biggest games of the year, but that hasn't saved it from lingering fan doubt. The stakes are high: not only is the open-world adventure a sequel to one of the best games of all time, it's also releasing for what's seen as increasingly dated hardware. Every time Nintendo promises new gameplay, fans immediately speculate if this isn't the time the Japanese company will finally reveal that it's working on a souped-up version of the Switch to release alongside the game. The news that TOTK will cost an extra $10 fueled the flames, because surely folks aren't about to get the "next-gen" tax on what's effectively last-gen hardware, right?

What You Should Know About Mario Strikers' Big Free Update
The fixation on specs is in many ways just another example of a culture that mistakes performance for quality, but that's not the entire picture here. If people have been so worried about things like Zelda's graphics and draw distances, it's partially because Nintendo hasn't really given them much to chew on gameplay-wise. Lore-wise, the implications of where Tears of the Kingdom might go have always been juicy, but most of what was shown off in trailers before now has looked, at best, incremental.
Read More: Zelda Producer Plays Tears Of The Kingdom For 10 Mins, And The New Stuff Looks Wild
The promise of added verticality, explored in this game via the floating islands hovering above Hyrule, is practically mandated for sequels as developers think about expansion in the most literal of ways—see Uncharted 2. It's cool, but not "changes an entire genre" earth-shattering. And indeed, that was the through-line of how most new stuff was received: potentially cool, but not that impactful. Fans spotted old enemies here and there. They speculated that perhaps old civilizations like the Zonai would finally get explored more fully. Ganon speaks now, though most people have no idea what any of those words we heard him say actually mean. After that, the morsels start to get even smaller. Link's arrows home in on his enemies! Uh, new stasis abilities for puzzles? Welcome to BOTW 1.5. It's probably going to be great, but we're already a little disappointed.
G/O Media may get a commission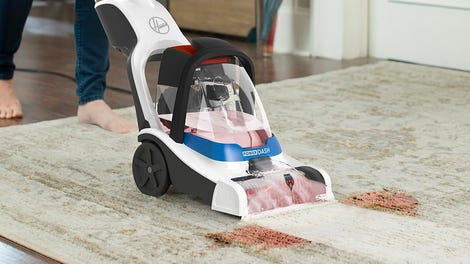 26% Off
Hoover PowerDash Pet Compact Carpet Cleaner
Tears of the Kingdom brings out the new guns
Perhaps the most thrilling revelation through the marketing cycle for TOTK was seeing Link ride vehicles and aircraft, but even here, something was missing. Players weren't excited because they might have a faster way of getting around Hyrule, but because they had memories of cobbling together transportation devices that the first game never intended to exist in the first place. Nintendo took the ball and ran with it, which is cool in theory, yet paradoxically stripped away the core aspect of what made this a phenomenon in the first place. It was never function that made these ad hoc 'cars' so exciting. It was player ingenuity, the sheer happenstance of giving us so many raw ingredients that BOTW magic ensued.
Fans assumed that we'd get to build these things just like before, but it wasn't until late March's surprise 10-minute gameplay drop that everyone got a sense of what Nintendo really had in store for us. These don't appear to be pre-made vehicles, effectively blueprints where all the outcomes and shapes are foretold and we just supply the parts. No, Nintendo just happened to make pristine cars and ships for trailers before, but in this new footage, we saw Link attach and detach logs at various different junctures, free to assemble them in whatever ugly or ramshackle fashion he might desire. Yes, the logs were clearly sitting there, waiting to be put together for the purposes of the demo. But it's easy to imagine a determined player traveling across Hyrule for the perfect piece of junk, or making some god-forsaken boat that defies the laws of physics in an attempt to outrun the blood moon. What fans are imagining aren't perfect adventures, it's mess.
Link fuses all his weapons now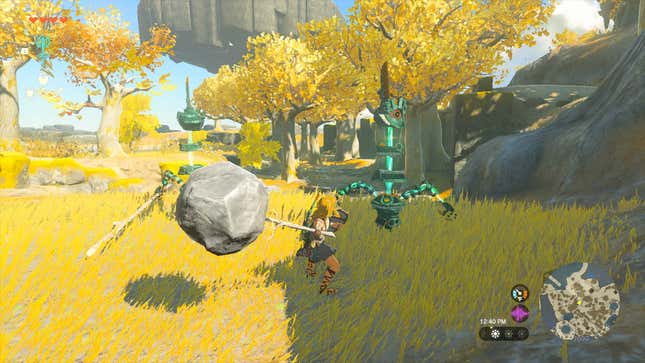 Obviously a lot hinges on what Link will be able to cobble together, and in the video we see things like sails, turbines, balloons, wheels and much more attached to raw materials like wood and metal. "Depending on your imagination, you can do a lot with them," Nintendo promises.

But this much, we already had a sense of. What was totally new for Zelda on Tuesday had to do with weapons, and the ability to fuse them. You can put a boulder on a stick to create a hammer. You can fuse a pitchfork on a branch and poke enemies to death. You can fuse arrows to other objects like leaves or ice to freeze enemies, but in the spirit of chaos everyone's wondering if we'll be able to attach meat to the ends. My guess? Yes, because it would be a great way to lure enemies to specific areas. But people aren't latching onto this because it's a smart idea; rather, they're doing so because a good game doesn't ask you why. A good game just lets you cook.
It's easy to understand now, in previous screenshots and trailers, how nothing about Tears of the Kingdom seemed all that exceptional or different. Sure, there's probably stuff we won't get to see until the game is out and in our hands. Overall, though, Nintendo appears to be taking much of what was already in Breath of the Wild and redefining what you can do with those things, rather than adding a bunch of outright new things. They're doubling down on Hyrule as sandbox.
And with that, Nintendo has answered the question of how it one-ups itself. In return, players aren't just imagining what they'll be able to do with this. They're already calling the impact Tears of the Kingdom will likely have on the genre at large, just like its predecessor did.
"I can hear every other open-world game dev crying bitter tears about how hard it's gonna be to steal that fusion mechanic," reads the top-voted comment for the new trailer on YouTube.